Recently, the hit movie, Ready Player One, has given gamers all over the world a taste of highly futuristic, immersive video games. But there's no need to worry: the development of AI, AR and 3D facial recognition technology means the fantastic scenes of the movie aren't far off. These technologies have many applications, and the one that's closest to us is our mobile phones.
AI: the intelligent evolution of mobile phones
AI technology helps today's smartphones achieve the real intelligence. It allows mobile phones to do things like learn the user's habits, allocate the phone's memory usage, and intelligently identify photo scenes - making mobile phones your true smart assistant. Unigroup Spreadtrum & RDA is one of the world's top three mobile phone chip design companies in terms of market share and China's largest pan-chip provider. In the field of AI, it has released an AI terminal solution based on its own mature 4G communications and AP processing capabilities. The solution has already been adopted in Baidu's Wi-Fi translator, providing smart services for tourism and other industries.
AR: See a different world with your phone
AR technology has transformed the presentation of traditional images. You will be able to experience more realistic game characters on your mobile phone, try on clothes sold online as you please, and benefit from more intuitive route navigation... AR technology presents an incredible visual feast for mobile phone screens. In January 2018, Unigroup Spreadtrum & RDA released the world's first augmented reality (AR) mobile phone technology solution in collaboration with 3D human-computer interaction technology provider uSens. The solution is based on Spreadtrum's SC9853I chipset platform, which has fewer adapter constraints and very low CPU usage (only one quarter of ARcore in test cases). Not only does the chip run smoothly on high-end mobile phones, it also offers strong adaptability and stability for popular mobile phones in the mainstream market.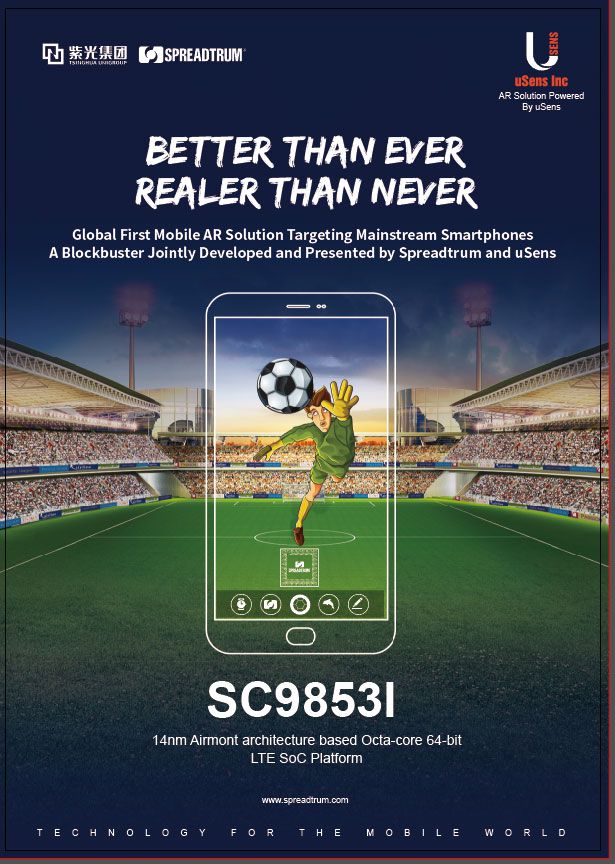 3D facial recognition, rendering details in 3D
From FaceID unlocking to mobile 3D modeling, the applications of 3D technology in mobile phones are becoming ever more practical. In this respect, Unigroup Spreadtrum & RDA has, together with advanced digital imaging solutions provider OmniVision launched the industry's first active stereoscopic 3D camera solution for smartphones. This solution has the advantages of small size and low energy consumption, helping manufacturers to easily implement advanced 3D imaging - such as 3D modeling, in-depth capture and face recognition - in the design of the new generation of smart phones.
Playing with black technology
LEAGOO T5c is the world's first smartphone equipped with Spreadtrum SC9853I SoC. SC9853I adopts the Intel 14nm X86 Airmont microarchitecture, which can greatly enhance SoC performance at an even lower power consumption, bringing the best balance between great performance and power efficiency.
The LEAGOO T5c was showcased at the Hong Kong Electronics Show. This highly futuristic, "black technology" mobile had been shining again. Featuring 14nm advanced technology, rear dual camera, and chip-level dual-camera optimisation, it has been a hit in overseas markets.
LEAGOO T5c full specs:
Display: 5.5 inch SHARP FHD IPS
CPU: Spreadtrum SC9853I 1.8Ghz , Intel X86 core, 64bit
RAM: Samsung 3GB
ROM: Sandisk 32GB
Rear Camera: Samsung 13.0 + OV 2.0 dual-cam
Front Camera: OV 5.0 MP
Battery: LG 3000mAH with 5V2A quick charge
Fingerprint: 360°rear front-mounted fingerprint ID
Going forward, Unigroup Spreadtrum & RDA and LEAGOO are planning extensive collaboration in more fields including AR, AI, and 3D facial recognition, creating the next generation of mobile phone black technology!
The future of chip technology awaits!